Mercedes-Benz To bring 10 New Cars To India in 2019
Mercedes has a cautiously optimistic outlook for 2019, but that won't stop it from launching as many as 10 new cars, including updates and facelifts, this year
Key launches expected are the 2019 GLE, V-Class MPV, A-Class sedan, 2019 B-Class, the updated GLC and the all-new GLB.
Mercedes to kick-off 2019 with  launch of the V-Class
New GLE SUV will be among biggest volume drivers for Mercedes in 2019
After reporting its highest-ever sales in 2018, German luxury carmaker Mercedes Benz is looking to enter its 25th year in India with a bang and plans to launch as many as 10 new cars this year.
With a strong product lineup, including new cars and facelifts that are planned for 2019, the three-pointed star will look to maintain its strong sales momentum and cross the 15,000 unit mark yet again this year. Mercedes Benz sold a total of 15,538 cars in 2018, its highest in the country ever, despite strong headwinds from high fuel prices, interest rates and insurance costs dampening consumer sentiment.
Among the key launches expected this year are the 2019 GLE, V-Class MPV, A-Class sedan, 2019 B-Class, the updated GLC and the all-new GLB. While Mercedes has not disclosed more details yet, we do know that it will kickstart the year with the all new V-Class.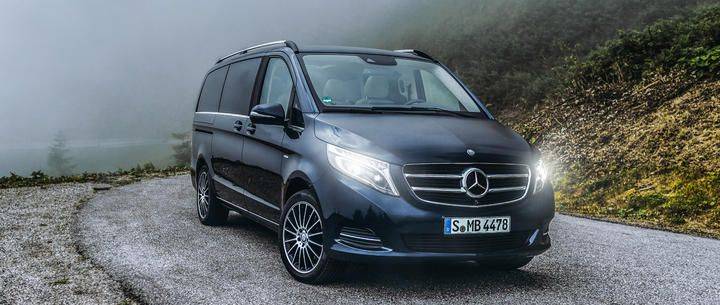 Class, which is scheduled to launch on January 24, Mercedes will re-enter the luxury MPV segment in the country. Mercedes-Benz had tried its hand (not so successfully) at the niche luxury MPV segment with the R-Class in 2011. This time around though, Merc believes that the market has matured and anticipates good demand from the service and hospitality industry and large family buyers. Check out more details on the upcoming V-Class here.
Even as the GLC has become the most sold SUV from Merc's stables in India, it was the GLE (erstwhile M-Class) that laid the foundations for luxury SUVs in the country. And now with the 2019 GLE all set to launch in the first half of this year, Mercedes-Benz looks to heat up competition and drive sales further. The 2019 GLE gets an all new engine, fresh design and a host of driver assist systems to take on the BMW X5 and the Audi Q7. This E-Class on stilts is likely to be priced around Rs 75 lakh (ex-showroom).
We will get more details on the upcoming Mercs as the year progresses, but with a strong lineup anticipated, what is certain is that the luxury carmaker will further cement its position as the most sought-after brand in its segment. Interestingly, Mercedes already has 18 models (even more than the largest carmaker Maruti Suzuki) in its India portfolio and with more launches this year, the number will go up even further. So stay tuned to Zigwheels for all the updates and news on Mercedes Benz cars in India.
Source: https://www.zigwheels.com/news-features/news/mercedesbenz-gle-vclass-to-launch-in-2019-along-with-8-more-models/32718/